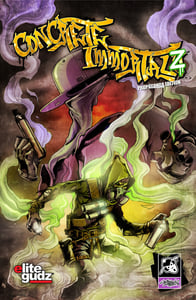 $

10.00
Limited run, first edition of the Concrete Immortalz re-launch.
After "Insurrection", Concrete Immortalz had come to mean something different to its creators and the hardcore fans that have shown support since the beginning.
With respect to comics and graffiti, the Concrete Immortalz take things over the top, holding true to its comic roots while bringing in authentic elements of graffiti and some of the top writers in the world.